In recent years, wellness has become a major trend in the hotel industry, with more and more hotels incorporating wellness features into their properties. This trend is driven by a growing consumer interest in health and well-being, as well as the desire for a more holistic travel experience. But hotels have moved a long way from offering their guests a massage and calling themselves a "spa." These properties now offer guests a range of personalized wellness amenities to transform their minds, bodies and spirits while also tapping into local cultures and traditions. Expect these new wellness resorts to use local products in treatments and meals but also focus on the surrounding culture and nature - from forest bathing in the redwoods at Post Ranch Inn to soaking in the thermal waters of The Ranch Italy to finding your inner purpose through the lens of the epic story of Greek mythology, the Odyssey at Euphoria Spa in Greece. 
Let us help you find the best destination for your wellness journey and enjoy bonus amenities available through Houlahan Travel.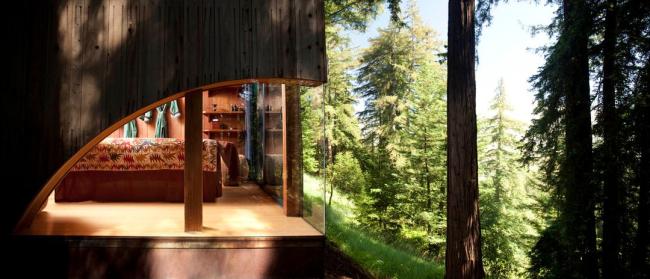 Indulge in relaxation, serenity, and exploration during your stay. Join us for a range of revitalizing spa therapies, serene wellness activities, and peaceful moments of reflection while admiring the breathtaking California coastline. The Post Ranch Spa is influenced by local history and community, providing organic signature treatments and utilizing the restorative powers of the natural environment to help you unwind. Experience a rejuvenating transformation with our calming body treatments, restorative meditation sessions, invigorating private guided hikes, and energizing yoga classes.
Euphoria Retreat is a hidden gem that transports you to another era upon arrival. Its serene ambiance takes inspiration from Ancient Greek temples, and its terracotta roofs blend beautifully with the blue sky and the lush 90-acre private pine forest. Beyond being a mere boutique hotel, it stands out as one of Europe's premier spa destinations, prioritizing guests' wellbeing and offering continuous access to the therapeutic benefits of nature.
Miraval Resorts - Tucson, Austin and the Berkshires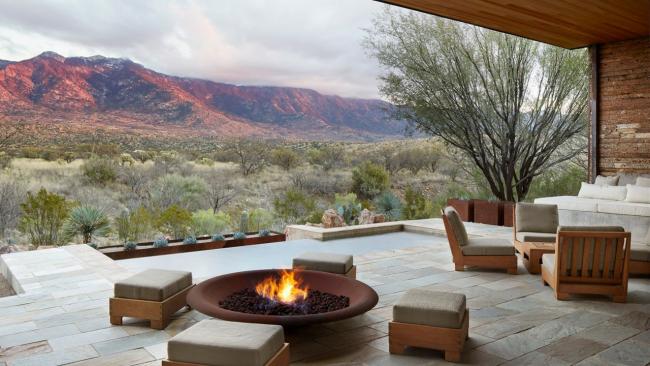 Miraval has been a leader in the Wellness space for over 25 years. By remaining committed to their core mission, they have become a leading global provider of luxury wellness experiences. They offer exclusive activities and spa treatments that enable guests to consciously explore the interconnection between body, mind, and spirit. Their approach is to meet guests where they are, inspiring them to fully embrace the present moment and integrate wellness into their daily lives. Whether it's the Equine Experience or the Challenge Course or a day spent in the Life in Balance spa, Miraval's focus is on helping you find your best self.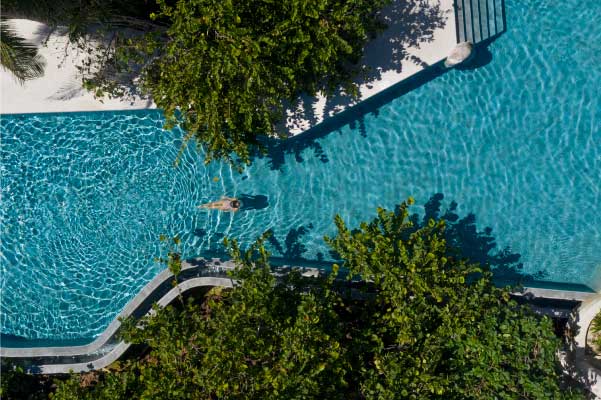 The House of AïA is an exclusive hideaway boasting oceanfront swim-up suites, a jungle spa, and gastronomic dining experiences created by chefs trained in Michelin-starred restaurants from around the world. Its locally sourced, plant-based cuisine, private white sand beach, secluded terraces, infinity pools, and in-suite dining options distinguish it from other luxury wellness retreats. The elegantly designed oceanfront suites feature breathtaking ocean vistas, stylish furnishings, and holistic amenities that are unparalleled in the Riviera Maya. This all-inclusive resort provides a level of privacy typically found only in far-flung island resorts, and an ambiance of tranquility akin to that of a yoga retreat. Guests can immerse themselves in the vibrant jungle energy of the Mayan Riviera while reestablishing the connection between their mind and body with guided meditation sessions, yoga classes, sound baths, energy healing, and other experiences.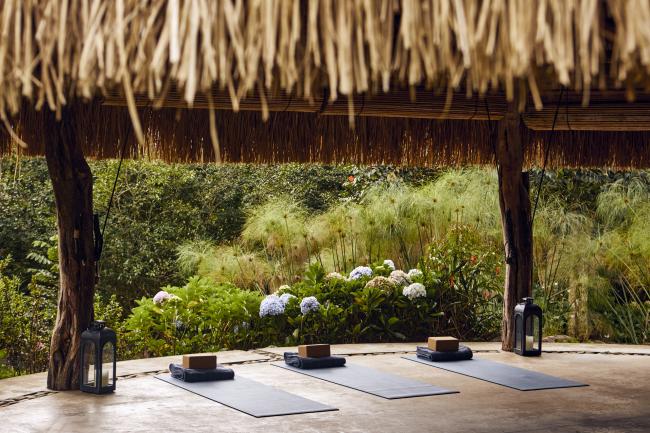 Nestled on 180 acres of land with over 20,000 square-feet of luxurious amenities, the Hacienda Alta-Gracia's secluded wellness retreat invites guests to unwind, rejuvenate, and energize. Enveloped by the Talamanca Mountains, they share a profound connection with Mother Earth, Pachamama. Their treatments, programs, and experiences pay tribute to her and the precious gift of life she provides. The Well's holistic approach integrates various healing traditions spanning thousands of years, with eight treatment rooms, a hydrotherapy tub, thermal suite, several outdoor ranchos for mindful movement classes, and a restorative garden right on the property.
The Ranch Italy (and Malibu and Hudson Valley, coming in 2024)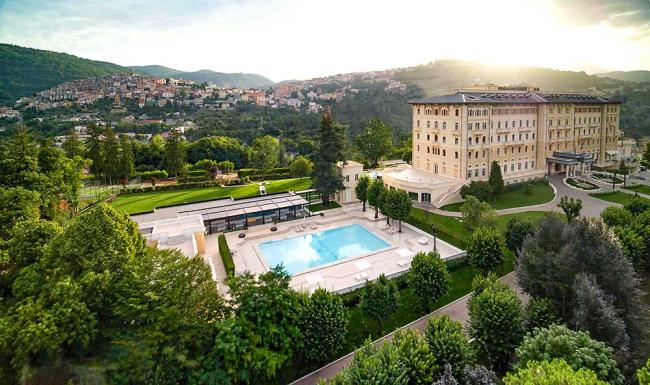 Experience The Ranch's transformational weekly wellness program in a historic property, nestled in one of Italy's richest naturalistic areas, just 50 minutes from Rome.  The Ranch Italy at Palazzo Fiuggi combines our award-winning, results-oriented fitness program with the services and expertise of the esteemed team at this renowned medical wellness retreat. The result is an immersive and transformative program that gives guests a more complete picture of their overall health and longevity, departing with a greater sense of self, feeling rested and rejuvenated while losing weight and gaining muscle.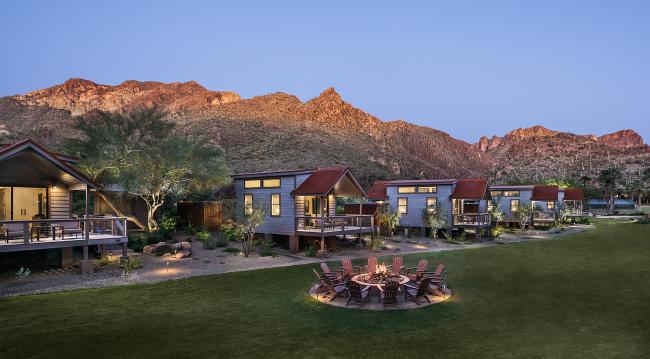 The ochre and sepia-hued slopes of the Bradshaw Mountains loom larger ahead as endless blue skies stretch out above. Castle Hot Springs Resort appears to take you further away from the hustle and bustle of everyday life. The bubbling thermal springs create a sense of a natural luxury oasis amidst the sun-soaked desert.
Castle Hot Springs Resort has been in the making for many years. Throughout its history, the thermal springs have drawn a variety of people seeking rest and healing, from Native tribes to American high society and recuperating World War II soldiers. Today, the Lodge, newly-created Spring Bungalows, and SkyView Cabins are the latest chapter in this long story. The resort blends early-20th-century glamour with a pared-back, off-grid ethos, making it the perfect contemporary hideaway.
Forestis - The Dolomites, Italy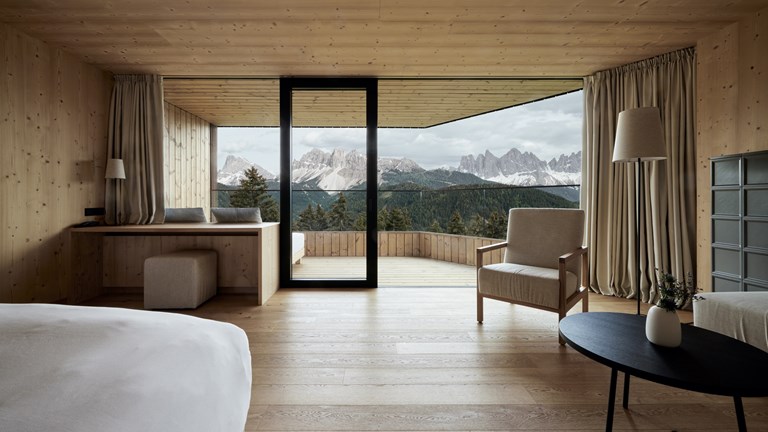 At 1800m in the UNESCO Dolomites, FORESTIS offers a serene mountain top experience that will take your breath away. This summit-level sanctuary is perfectly connected to its stunning South Tyrolean mountainscape, with forests and snow-dusted peaks in every direction. The spa hotel is in tune with the elements, providing a cool and calm atmosphere that invites you to relax.
The minimalist spaces at FORESTIS are bathed in natural light, drawing your gaze towards the breathtaking views. The interiors of the Suites, ultra-luxe Penthouse, restaurant and spa all echo the mountains, with stone basins, white-as-snow tones, crisp fabrics and clean lines. In your bedroom, you can enjoy Plose mountain spring water from a stone carafe before experiencing a forest spa therapy. Finally, dine at altitude while taking in the stunning sunset over the summit.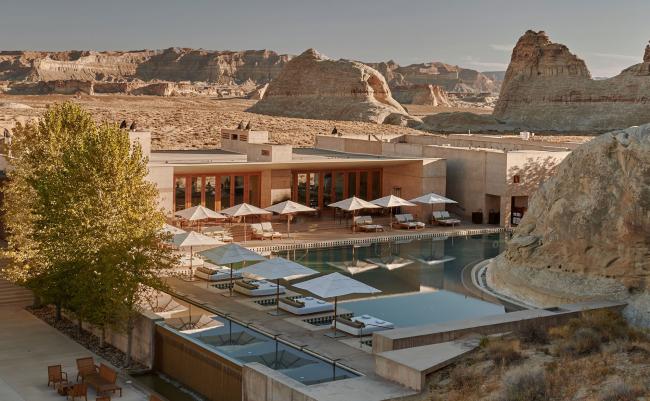 In southern Utah, the tan and pink landscape of the Colorado Plateau is a truly astounding sight. Within its pristine 600 acres is Amangiri, a one-of-a-kind resort destination in a place so unique, it required an Act of Congress to be built. Constructed with natural materials and designed to sit organically in its surroundings, each suite at Amangiri allows guests to commune with this protected land in luxurious comfort.
This resort is a gateway to not one, but three National Parks: Zion, Bryce Canyon and the Grand Canyon. Explore them by foot, horseback, hot air balloon or even by boat, and start your days with morning yoga classes up on the rocks, directing your sun salutations to the valley below.
Back at the resort, indulge in the 25,000 square foot Aman Spa and water pavilion, which features a variety of restorative water therapies. End your days with a relaxing meal taken indoors or out, featuring dishes influenced by local Native American traditions; think buffalo carpaccio, fire roasted tortilla soup, green chile pozole and sixty-day corn popsicles for dessert.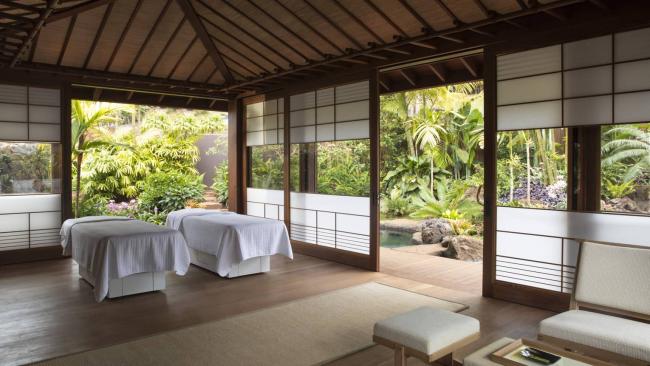 On the secluded Hawaiian island of Lānaʻi sits one of the most unique wellbeing retreats in the world. Brought to life by some of the best-in-class minds and practitioners in wellness, the Sensei Way philosophy is led by science, backed by evidence-based practices, and supported by innovative technology to meet you on your wellbeing journey.
In a unique collaboration between Sensei, Four Seasons Hotels and Resorts, and dining by Nobu, this expansive property creates an unparalleled wellbeing retreat. Connect with the natural world in the lush landscape featuring sculpture and water gardens, light-filled accommodations, and private spa hales that intertwine with nature. Highly trained teams support you with heartfelt intention to curate your stay with private wellness sessions, enriching small-group activities, relaxing spa services and exhilarating island excursions.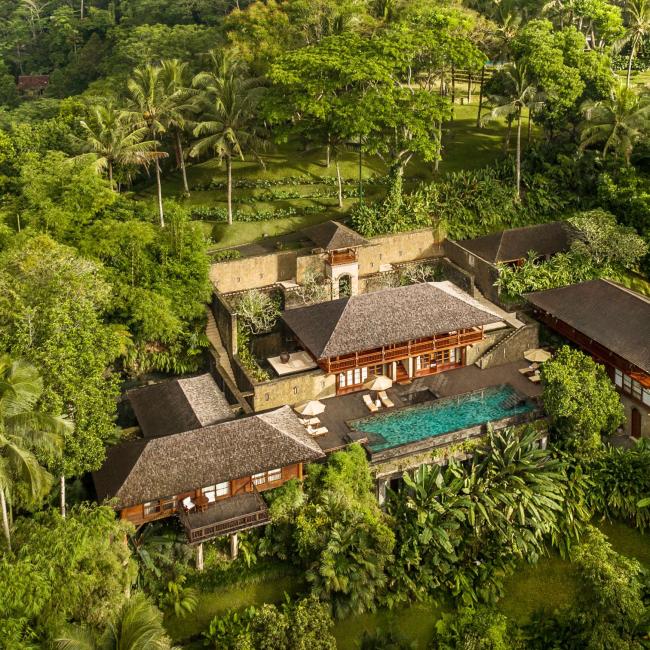 COMO Shambhala Estate is an award-winning wellness resort near Ubud, Bali, situated at the edge of the Ayung riverbank. The Estate represents the apogee of the COMO Shambhala philosophy in its approach to holistic health through Integrated Wellness Programmes complemented with nutritional COMO Shambhala Cuisine. Our grounds feature numerous state-of-the-art wellness facilities, and for adventures beyond the Estate, we provide guides and fitness experts for making the most of the outdoors.